I have been down and out as of late...my lungs are fighting with me. I want to play in paint and transform furniture; they want me to be tired, breathless and weak. It really sucks, but that's my life. No whining here my glass is half-full. Sometimes it's just harder than others...this is one of them.
In one of my many late night Pinterest browsing sessions I came across a technique where someone stenciled a design on the top of a piece and then stained over it. I decided that this project would really lend itself to that since it was so solid and other than a cruddy paint job, pretty flawless.
Now I have mentioned here before that I am not at all fond of sanding. Distressing sanding yeah, removing layers of yucky paint sanding, no. I took what I thought was the easy way out and applied some Jasco stripper to just the top of the dresser. I planned to prime and repaint the rest in the grayish paint left over from my chair painting workshop.
This is where you quickly discover the history of your piece of furniture, one paint layer at a time. Hello 1970's bright orange...who knew? Despite my tenacious stripping technique (while wearing a mask to protect whats left of my breathers) I had to break out the sander. I was sanding away what was left of the old paint when the sanding platform went flying across the garage. I guess the life expectancy of a furniture painters palm sander is about 12 years. I would call that a good spend.
I primed and base-coated the body of the dresser and went to work on the stenciled top. I mapped out a pattern using a stencil to create a damask style design. I used the same color as the body. It was hard to see against the raw wood, but really came to life once I added the stain over the top. I started with a light walnut, but decided I wanted it darker so I ended up using black walnut. After it dried I covered it with some rub on poly.
I crafted a shelf from plywood to fill the void where the drawer used to be and distressed and antiqued all the dresser edges. I added some new Target brushed silver hardware that I found at the Goodwill for a steal. I wanted to add a couple dark baskets on the shelf to coordinate with the top and tie the whole thing together. I finished it with a coat of clear wax for extra durability. After many failed attempts I just couldn't get a good picture of the after...sorry.
I guess in it's finished state it would work well as a buffet or a dresser, whichever it's new owner sees fit. I knew what I wanted the finished product to look like from the beginning, it just took me a little longer to get it there. Maybe next time I'll be more efficient with my shiny new palm sander...and less tempermental lungs.
Linking up to these lovely ladies: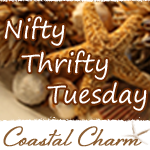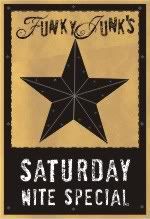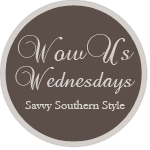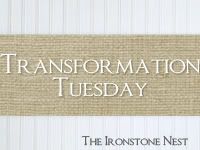 r />