Several months back I was elated when I got my hands on a free Duncan Phyphe settee from a local upholstery shop. The curved front stringer was broken beyond repair, but the gentleman I got it from said it would be simple to replace with a straight piece. I have tackled all types of repairs and figured this would be a piece of cake.
When I opened up the upholstery to start the rebuild this is what I saw. Grass, lots and lots of dry, itchy, smelly grass. Obviously I was stumped, that was several months ago and although I kept wanting to jump into it...I didn't.
Eventually I did work on it long enough to replace the broken stringer. It was then that I discovered while removing some of the gazillion staples and upholstery tacks that the side framework was looking pretty bad, a little rot and a whole lot of holes and gouges from a previous re-do. I removed all the old grass and fabric and threw it on the burn pile. Again I felt overwhelmed and pushed it to the back of the pile.
Here it is many months later. Wet, damp weather is upon us and due to the likelihood that"critters" will be looking for a fluffy dry place to hang out, I decided to host an intervention and make myself tackle it. I convinced the hubby to drag it into the house before he left for his week long hunting trip so that I wouldn't be sitting on the cold garage floor or trudging through the rain with fabric. Besides that, if I tripped over it every time I came through the door I wouldn't be able to avoid it any longer, right?
First on the agenda was to rebuild the underneath with new jute webbing and retie all of the springs that had either come undone or belonged to the new front stringer. DISCLAIMER: Now before you cringe let me say, I am by no means a professional upholsterer. In fact, this is the first time beyond a simple cushion or ottoman. I'm not sure that I am doing things correctly at all. What I did do is pay close attention to how things came apart and tried my best to put them back together in the reverse order. I had to improvise a little using materials that seemed close to those used originally.
Once I felt like the springs were as good as I could get them I began to tackle the upholstery. The first thing I did was put back the old stuffing that was clean enough to save. I then used new lightweight quilters batting over the top to give myself a smooth clean surface to put my fabric over. I saved the old upholstery to use as a pattern when cutting out my new fabric. Speaking of fabric, over the summer I scored a huge piece of burlap at a garage sale for only $3! It is a fairly tight weave which I though would add to the durability of it and there was enough to cover the entire thing except for the outside of the arms. That was okay though because I had another plan for those.
I still had a few coffee sacks left over from my chair painting class that I decided would add a bit of character to the side arms. I was conflicted about what color to paint the little bit of wood, but settled on black to pick up on the black writing from the coffee bags. I felt like I needed to jazz up the new front stringer (aka: a pine 2x4) so I added a couple of wooden embellishments to the ends and some grooved moulding to the center.
It was also bugging me that the decorative topper on the back was so plain. I envisioned it with some type of quote, but was afraid it would clash with the coffee sack arms. I found a small set of damask vinyl rub-ons that fit perfectly so I first painted the back stringer white, added the designs and painted over them with the black and then peeled them off...ta da!
I really loved the way the nooks and crannies started to pop when I distressed them. I had primed using white just because I so appreciate the contrast it creates when painting with black.
I really must tell you, I used an entire box of upholstery staples, two packages of upholstery tacks and a whole lot of elbow grease. By no means was this an easy project. The only thing that kept me trudging along was that I had a vision. Which also included ten yards of trim and many, many hot glue sticks to hide all the ugly stapled edges.
I took it down to the shop along with the burlap chandelier pillows I created to merchandise it with. It wouldn't have been complete without the finishing touch of a "setee pillow" for the setee.
My booth is looking especially French at the moment, which is a big draw lately...especially with our younger customers. I'm hoping that some generous Hubby out there buys this to surprise his wife with at Christmas. I'll share the set of Parisian nesting tables in the photo with you next week.
Linking up to these lovely ladies: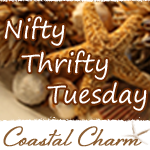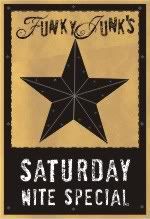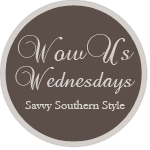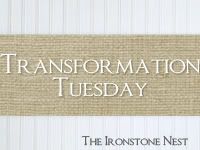 r />